by Thomas Shaw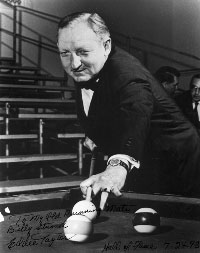 Draw a rough circle from Cincinnati to Memphis to Birmingham to Atlanta and Ashville, North Carolina, then back to Cincinnati and you have a map of one of the most unique areas in pool history. You've just outlined the Bank Pool Capital of the World -- and the home of Eddie Taylor, "The Knoxville Bear", the best Banks player of all time.
No one knows why Bank Pool became such a specialty of players in Kentucky, Tennessee and the Central South, but there's no question that it did happen. They may have played Straight Pool in the Northeast, and a lot of 9-Ball in the rest of the South and West, but in that circle you just drew, even the fun players spent their time propelling every object ball toward a cushion.
All that attention naturally spawned most of the top bankers in the world, and it still does today. The cream rose to the top, and Eddie Taylor rose above the cream -- to the point where he actually had to quit the game a number of times because nobody would play him.
Taylor was born in the mountains of Anderson County, about six miles from Oak Ridge and twenty miles from Knoxville, October 1, 1918. "When I was about eight years old my Daddy bought me a little toy table," Taylor said, "and later on we lived near the amusement park where the fella who owned the batting cage bought a 2 1/2 x 5 foot table and I got to playing on that. Then we moved downtown near the YMCA and I played on the table there. It just seemed that everything came natural. This boy and I used to go across the street from the school and the guy would let us play one game of rotation for a nickel. Then I started laying out from school and playing. My mother finally caught me and threatened to blow up the poolroom but I just found another place until she caught me again."
By the time he was 15 he could beat anyone in Knoxville. Winning took on even more importance because the Great Depression had hit in 1929 and jobs and money were scarce.Young Eddie accumulated close to $40 and got on a bus headed toward Morristown and Herman Roddy, Jr. He came back busted.
"I finally beat him on the third trip," Taylor said, "and that's when I started on the road."
He made repeated trips out of Knoxville, dressed in a suit and tie and wearing a hat; it was the only way he would look old enough to enter a poolroom. In 1934 and '35 the Depression was deepening and it didn't look like anyone could get a job. The Future, which had been so bright five years earlier, appeared to be lost in a dark and dirty fog, and all attention was turned on just struggling through the day. The possibility of winning a week's worth of wages in a couple hours looked pretty appealing to a skillful young player.
"I'd hitchhike to other towns to play," Taylor said. "The only problem was sometimes you'd have to wait 30 minutes for a car to come by because there were very few cars and people couldn't afford gasoline."
The local rooms -- and there were four on the main street alone -- booked Straight Pool champions for exhibitions, and the proprietors usually asked the teenaged Taylor to play them. After the show Eddie would try to get them into a money game at the back table.
"Outside of Banks they played a lot of Snooker and Rotation back then. Hardly and 9-Ball because it was the depression and you didn't want to lose what little money there was on a game with luck," he said. "Marcel Camp had won the Snooker Championship and was a Straight Pool champion, of course. He was there with Chick Seaback, who was a hell of a player. Every time Chick got ready to shoot it would look like his tip was going in the cloth but on his final stroke he'd hit the ball where he wanted to. I played Camp in the exhibition at Stright Pool and did pretty well but he beat me. Later I challenged him to some Banks but he wouldn't play. 'Triple Julius' Silverman from D.C. was there and knew Camp and said, 'You mean you're going to avoid this 17-year old kid?' and we finally did play on a table down in the basement. I was up fifty dollars when this policeman knocked on the door and said we'd have to break it up. But it was in the paper the next day."
As a teenager Taylor got to play Greenleaf, Ponzi, and a lot of other top names. Still, Straight Pool was a game for the Northeast, not the South. John R. Cook was the top Bank player in Eastern Tennessee and he and Taylor played many matches and become lifelong friends. Cook had his own business interests and didn't travel much but played and frequently beat the top road players coming through Knoxville, a role that Taylor took over in his late teens.
Though there were top Bank Pool players all over -- Lexington, Kentucky, had a dozen players who could bank 8 and out. "I never saw another place like it," Taylor said. He was there when famed road player Earl Schriver came through and they hit it off. Schriver, then 21, partnered with Eddie and they left in the former's Model A Ford.
"I had seen a little One Pocket but it was earl who taught me the game," Taylor says. "Earl was a master promoter and showed me how to walk out with the money but leave them smiling. Sometimes when we'd hit a small town where there was no action we'd play each other. Fats called me when Earl died in 1976 and I was real sad to hear it. We'd been friends for a long time and Red Box, a friend of mine from here in Shreveport (Louisiana) had just helped me get his cataracts taken care of and he was playing again. He had called me and said with his new vision he was going to go back to some spots and get his teeth fixed -- that's an expression we used to use, meaning win some money."
"Ralph Greenleaf was a name everyone knew at that time. I had played him in an exhibition in Knoxville where he broke them open and I ran 42, then scratched. He got up and ran 125 and out. I think I was 16. Anyway, what Earl taught me was to go into a room and tell everybody how good I was and that I just got through playing Ralph Greenfield (sic) and that I have run 18 balls and I bet there was nobody around here that can beat that kind of shooting. Of course everybody is laughing at me because I said Ralph Greenfield. I'd get on a table and not make any balls and finally someone would say I thought you was the world champion, and I'd say, 'just wait, I know what it is, I can't play unless I'm betting big money on my stick.' I'd tell 'em if I'm betting big money I'm really good. They'd say, 'How much you want to play for?' I'd say, 'Oh you wouldn't want to play for what I want to play for.' 'Well how much do you want to play for?' I'd say, 'No need talkin' about it because you wouldn't want to play what I want to play for.' We'd go back and forth and they'd start to get real mad, and I'd say, 'You wouldn't want to play for thirty-eight dollars and a quarter would you?' Now we'd go ahead and play and I'd luck in the nine or whatever it took and I'd start going to the rack to put up my cue and they'd say, 'Where you going?' I'd say, 'I didn't think you'd want to play anymore after that shot. They'd say, 'Bet you fifty.' That's what Earl taught me to do."
Schriver, one of the true legends of the 40s and 50s, was, like Minnesota Fats, renown for being able to get things going in an otherwise moribund situation.
"I was staying in Chicago years ago, in a motel near this bowling alley and biliard room," Taylor says. "They had lots of pool tables and lots of tables where they played cards. Before Fats came they were playing $5 cards and $10 pool. Earl and Fats traveled together a few times and they always sparked some action. I'm sure Fats and Earl were instrumental in getting the Johnson City tournaments going.